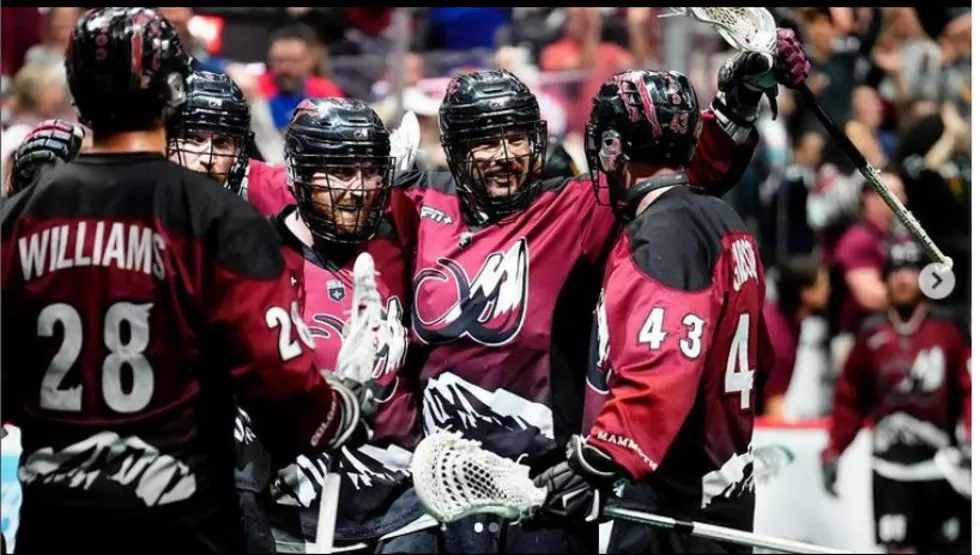 Your Colorado Mammoth Head To The NLL Finals For The First Time In 16 Years
Courtesy of the Colorado Mammoth
For the first time since the Colorado Mammoth won the National Lacrosse League Championship in 2006, they're headed back to the finals to try and bring home a second one.
Colorado Mammoth Headed To NLL Finals
The Colorado Mammoth Lacrosse team debuted in the National Lacrosse League in 2003 at the Ball Arena (then Pepsi Center) and has been a fan favorite in our state for almost two decades. Even though they've made the playoffs all but one year, they've only brought home the NLL Cup one time in its franchise history. It was the 2006 season and the team was loaded with some of the best players in the entire sport. Their opponent in the 2006 Finals? The Buffalo Bandits. Their opponent in the 2022 Finals? The Buffalo Bandits. Could history be repeating itself?
The Colorado Mammoth vs. The Buffalo Bandits In 2022 NLL Finals
I was hosting the game 3 watch party of the Western Conference Finals this past Saturday in Denver. As nervous as I was heading into this game, I knew we could beat the hated San Diego Seals at home for the second time in this series and get our team back to the "chip." The first half didn't go our way but this team has been the best 2nd half team in the entire league and they proved it again in their 15-13 victory to seal their ticket to this year's finals.
Game one will be Saturday, June 4th in Buffalo, New York, home to the top team in the entire league, the Buffalo Bandits. Fortunately, the Colorado Mammoth already showed they could beat the Bandits after a 15-14 regular season match-up in Ball Arena in April. Can they beat them two more times and bring home the Mammoth's first NLL Cup in 16 years? This Mammoth fan says absolutely! Let's Go Mammoth.
LOOK: 12 Pictures From The Least Expensive House In Colorado
Abandoned Mine Site of Freak Accident that Killed Colorado Mayor
WARNING: Under no circumstances should you enter this property. By doing so you risk bodily harm and/or prosecution for trespassing on private property.
The Coeur d'Alene mine in Central City, Colorado was once the site of a freak accident that killed the town's mayor and, along with neighboring buildings, is now abandoned.