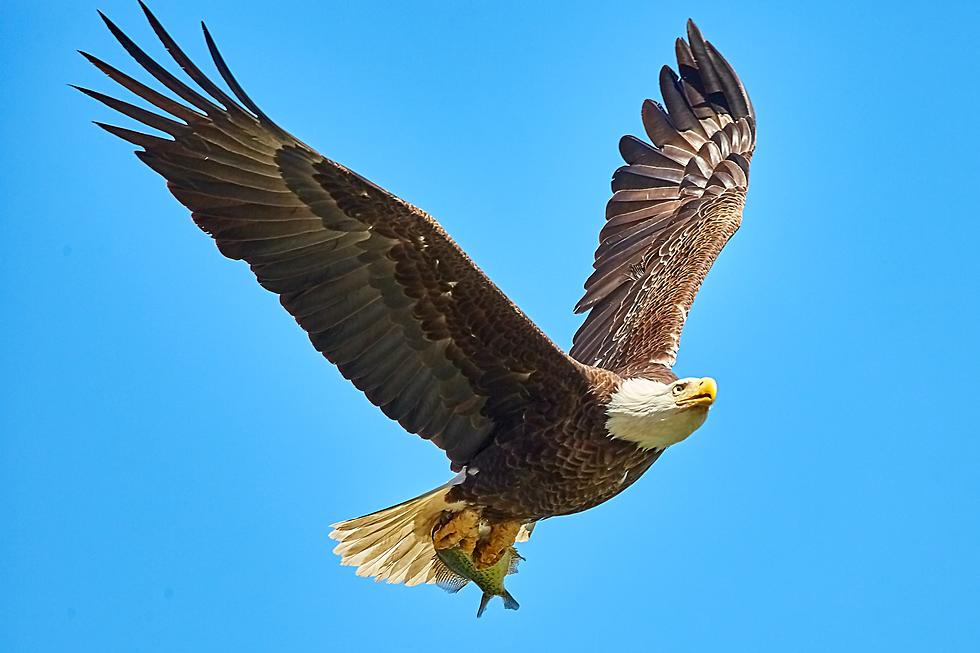 Why Some of Colorado's Bald Eagles Migrate and Others Don't
Mathew Schwartz/Unsplash
According to the Bird Conservancy of the Rockies, Colorado is home to approximately two hundred pairs of bald eagles. However, that number increases to nearly a thousand eagles at certain times of the year.
Front Range residents often spot these beautiful birds at local parks and natural areas or even sitting up high on telephone poles along the side of the road. Places like Barr Lake State Park are known for prime eagle-viewing opportunities, and depending on the month, hundreds of these majestic birds can sometimes be seen flying overhead, sitting on objects in the water, or perched up high in the trees at this location.
But what explains the varying presence of bald eagles within the Centennial State?
From October to April, many non-territorial and non-breeding bald eagles migrate through Colorado. These birds will typically spend their time in the best hunting areas around the state, where breeding bald eagles also live. Many times, migrating bald eagles will retrace their previous routes year after year. The eagles that migrate to Colorado in the winter come from various places around the country, making the long trek for a variety of reasons including an abundance of food (even in the colder seasons).
On the contrary, most breeding bald eagles remain in the state all year round, rearing their young here during the spring and summer. Colorado's breeder bald eagles usually remain relatively close to their nesting territories, no matter what month it is.
RELATED: Why are Bald Eagles Brought to Colorado When They Die?
This explains why Coloradans see significantly greater numbers of bald eagles starting in the fall and lasting throughout the winter months.
When wildlife officials are able to, they tag the bald eagles for tracking purposes, so that they can then follow the birds' patterns and determine areas they are foraging, as well as avoiding. The high-tech tags have solar panels, which ping off of cell towers and provide data regarding the location of where the eagle is flying, every four seconds. The information that's gathered is helpful to Colorado Parks and Wildlife, because it allows them to follow the eagles in their daily lives, and also figure out how to better manage and support the species as a whole.
Ideally, CPW tries to tag adult male bald eagles, because they tend to spend more time away from the nest than the females do. CPW explained that females are actually more difficult to catch, and they weren't even able to successfully tag the first female bald eagle until May 15, 2021.
Browse through some of the rarest birds found in Colorado below.
Scroll Through Some of Colorado's Rarest Birds
The Colorado Bird Records Committee of Colorado Field Ornithologists reports an amazing 514 species of birds can be found in the Centennial State. Scroll through the photos below to see some of the rarest birds you'll encounter in Colorado.