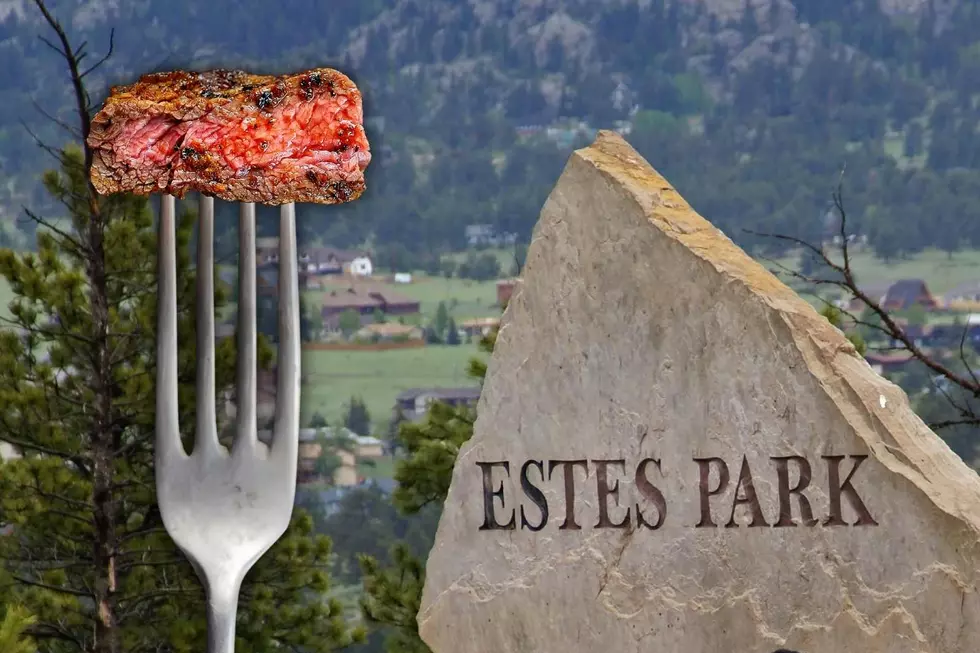 The 8 Biggest & Delicious Steaks in Estes Park That You Can Really Sink Your Teeth Into
Canva.com
When visiting Estes Park, there are many ways to satisfy an appetite. A big, juicy, delicious steak, prepared by someone else, can do just that. Here are the eight biggest in Estes.
The sound of the sizzle, the smell of the beef having just come off of a grill, a baked potato on the side. A great steak will awaken all of your senses, Enjoying a well-prepared steak in Estes Park, Colorado, can only make a beautiful day even better.
When it comes to traveling, many times you want to "do it up;" treat yourself to a great meal. A steak dinner often falls into that "great meal" category, and Estes Park does not fall short on places to enjoy one.
This is a list for carnivores, for certain. Meat-loving humans with a taste for a perfectly season protein hitting the taste buds. If you love a ribeye steak (and why wouldn't you) Estes Park is your spot. Estes is the "Gateway to Rocky Mountain National Park," and your gateway to great grub. If you're looking for a big steak, you're in luck. Estes Park has more than a few that can fill your stomach, deliciously.
THE BIGGEST STEAKS THAT YOU'LL FIND IN ESTES PARK COLORADO *SMALLEST TO LARGEST
THE DUNRAVEN AT ESTES PARK RESORT
The Dunraven has a fantastic surf & turf menu available which includes their grilled ribeye for $40. Their ribeye comes in at 12 oz.
GRUBSTEAK RESTAURANT
The Grubsteak brings rustic charm to the Rocky Mountains. Their building was once Estes Park's first bowling alley, among other things. You can get a wide variety of menu items, including their hand-cut ribeye, which weighs in at 12 oz.
WILD ROSE RESTAURANT
The Wild Rose takes pride on the qualify of food and the quality of service that they provide to their customers. They have four steak items on their menu, including their Bison Ribeye which comes in at 12-13 oz.
CLAIRE'S RESTAURANT AND BAR
Claire's has been providing great meals and great views in Estes Park since 1992. They have a delicious menu which includes a Bison Flatiron and a Ribeye, both of which come in weighing 14 oz.
HUNTERS CHOPHOUSE
Hunters Chophouse has a fantastic variety of meat items on their menu, including pork chops, ribs, and steaks. Their biggest steak, the bone-in Bison "Cowboy" Ribeye ($70) comes in at 15 oz.
NICKY'S STEAKHOUSE
Nicky's has been around since 1967 and is Estes Park's only riverside restaurant. They're dinner menu boasts their famous aged prime rib and a 14 oz. ribeye, but their biggest steak is their T-bone (the only T-bone on this list) which weighs in at 16 oz.
CASCADES RESTAURANT AT THE STANLEY HOTEL
Cascades not only has that great Whiskey Bar and amazing views on the patio, but a delicious menu, too. Bring your checkbook, as their biggest steak ($62) is their Buffalo Ribeye which weighs 16 oz.
TWIN OWLS AT TAHARAA MOUNTAIN LODGE
Twin Owls is a part of the great Taharaa, which is one of the great places to hold a wedding in Estes Park. Twin Owls has been in operation for over 20 years, with a great staff and great food. They have many tasty meat items, including a 7 oz. Bison filet, but their biggest steak it the Bison Bone-in Ribeye, which is one of Estes Park's biggest at 16 oz. 
Keep this list handy, and have fun getting to Estes Park to get your steaks on.
30 Of Northern Colorado's Top Rated Mexican Restaurants
National Fajita Day or not, if you've got a hankering for a seriously mouthwatering Mexican meal, consider checking out one of the 30 highest-rated Mexican restaurants in Fort Collins, Loveland, and Greeley - according to
TripAdvisor
- to best satisfy your craving:
10 of the Oldest Restaurants in the Great State of Colorado
The next time you visit a restaurant, why not incorporate a little Colorado history into your dining experience. These are some of the oldest restaurants in the great state of Colorado.
The Top Seafood Restaurants in Fort Collins, Loveland, and Greeley
When you're in the mood for seafood, these are the best places to go in Northern Colorado, according to TripAdvisor.