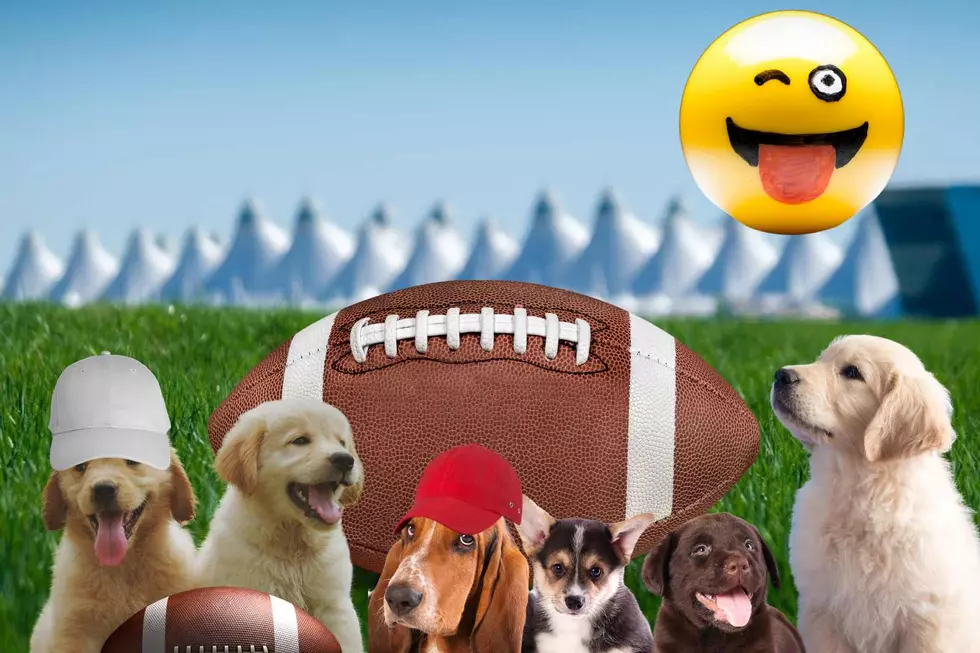 Cuteness Alert – DIA is Hosting a Fun 'Puppy Bowl' and We Can Watch
Facebook/Denver International Airport
The Eagles and the Chiefs go head-to-head on February 12, 2023, in Phoenix for Super Bowl LVII, but on Friday the 10th, it's wet nose-to-wet nose at DIA.
There aren't many things cuter than a bunch of puppies pretending to play football; when you raise the stakes and call it a "Puppy Bowl," the cuteness goes off the charts. Denver International Airport has teamed up with a local shelter to kickoff Super Bowl weekend with fun.
I wonder what the team names will be for this Puppy Bowl at DIA. The "Adorables" versus the "Super Cutes?" The "Poochies" versus the "Good Boys?" I'm sure that they'll come up with some fun names, without my help. Get set to set a calendar reminder to watch these heart-stealers hit the "turf."
These Puppy Bowls that happen around the time of the Super Bowl are great. They add to the "Why take things so seriously?" aspect of the biggest football game of the year. Where as the professional football players will have a gameplan and determination, these puppies won't have a clue or concern.
Denver International Airport will be hosting this Puppy Bowl on Level 5 of the Jeppesen Terminal near passenger arrivals. How fun will it be to get off the train and see these puppies having a [foot]ball? The Denver Animal Shelter will be the partner in the event; I'm guessing these puppies will be up for adoption.
Of course with any Puppy Bowl, it's a "win-win" endeavor: The puppies have fun, we have fun. I doubt they'll even be keeping score. Who's ready to see some of the "action?"
DIA/DENVER ANIMAL SHELTER PUPPY BOWL 2023
Check out these 50 fascinating facts about dogs:
LOOK: Here Are 30 Foods That Are Poisonous to Dogs
To prepare yourself for a potential incident, always keep your vet's phone number handy, along with an after-hours clinic you can call in an emergency. The ASPCA Animal Poison Control Center also has a hotline you can call at (888) 426-4435 for advice.
Even with all of these resources, however, the best cure for food poisoning is preventing it in the first place. To give you an idea of what human foods can be dangerous, Stacker has put together a slideshow of 30 common foods to avoid. Take a look to see if there are any that surprise you.
This Fort Collins Bride Walked Down the Aisle With Rescue Dogs
In an effort to make her Colorado wedding more personal, Stefanie Hutchinson decided to walk down the aisle with the adoptable animals of Big Bones Canine Rescue. All photos were provided by the bride and were posted with permission from the photographer, credited at
We The Light Phototography
. You can also check out their social pages: @wethelightphoto (IG) or @wethelightphotography (FB).