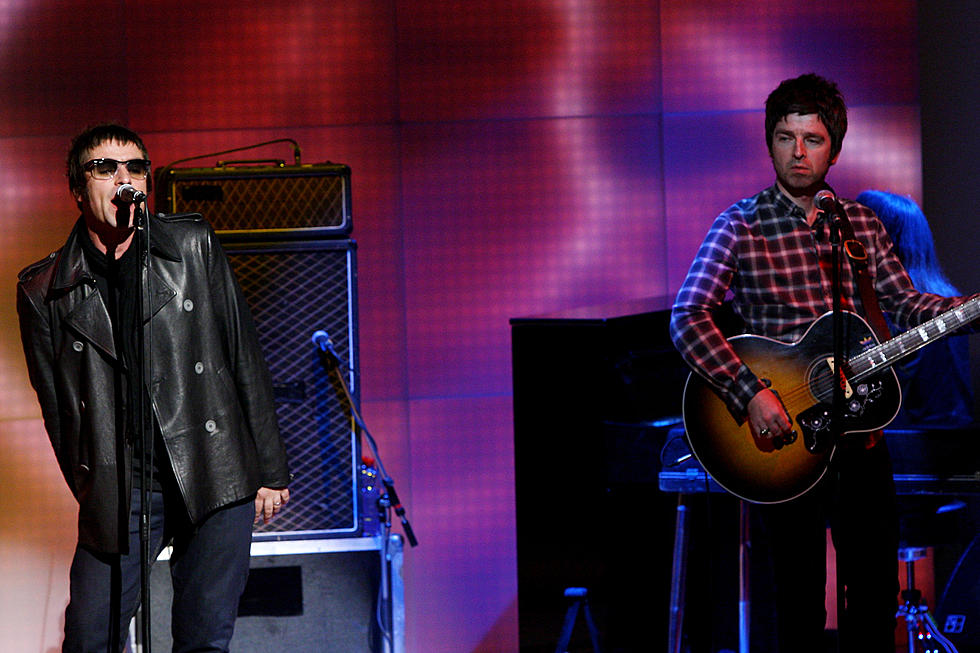 Noel Gallagher Wants Liam Gallagher to Call Him About Oasis Reunion, Liam Responds
Vittorio Zunino Celotto, Getty Images
Might we be getting closer to an Oasis reunion? While Noel Gallagher has consistently dismissed the discussion since he exited the band, he appears to softened his stance over the past year, and during a recent interview with Radio France / France Inter, he suggested that his brother Liam Gallagher call him when the discussion of a reunion came up.
When the interviewer posed the question about an Oasis reformation, Noel commented, "No one has really come along to take our place. But yeah there's something in the papers back in England today. But he should get his people to call my people. They know who they are, they know where we are. Stop talking it on the fucking internet and let's see what you've got to say."
When asked if it was only the question of a phone call standing in the way, Noel responded, "You would think, right? You would think. He's got my number. He's got my manager's number. Call us. But you know what? He won't call."
Noel Gallagher Comments on Possible Oasis Reunion With France Inter
What Does Noel Gallagher Think About a Potential Oasis Reunion?
In a separate interview with Radio X's Dan O'Connell, Noel Gallagher once again commented on the idea of reuniting with his former band.
"Look it's the done thing now isn't it? Kind of everybody's getting back together and Blur are playing Wembley stadium, everyone's getting back together," Noel said, then adding, "I will say, and I've said it a thousand times, if Oasis hadn't had reached their potential and there was something left to do, it would be different, but I just don't see what the point would be. It would be make a load of money, I've got a load of money. To do some monumental [venue] I've already done them."
"It's just not something that appeals to me," he added, before teasing: "Now that's not saying in 10 years' time it won't appeal to me..."
That said, back in January, Noel told BBC Radio Manchester, "You should never say never. It would have to take an extraordinary set of circumstances. That's not to say that those circumstances would never come about."
Shortly after those comments, Liam Gallagher stated on Twitter, "Just had RKID on the phone begging for forgiveness. Bless him wants to meet up. What dya reckon, meet up or fuck him off."
READ MORE: What Liam Gallagher Misses Most About Performing in Oasis
How Did Liam Gallagher Respond to Noel Gallagher's Latest Reunion Comments?
With Noel's interview circulating online, Liam Gallagher shared his thoughts on Twitter. The vocalist stated, "Here's how I see it the little fella aka potato has done a lot of damage to Oasis as a band / brand he's got a lot of making up to do not just to me but to you the fans the people that put us where we are tday as you were."
Throughout their split, Liam has often been the pushing the reunion idea. You can follow some of the back and forth between the brothers in the timeline posted below.
Back in early February, The 1975 vocalist Matty Healy challenged the Gallagher brothers to reunite the band.
"What are Oasis doing?" he commented. "Can you imagine being in potentially – right now, still – the coolest band in the world, and not doing it because you're in a mard with your brother?" "Mard" is slang for "a tantrum."
"I can deal with the dressing like they're in their 20s and being in their 50s, but acting like they're in their 20s, they need to grow up," he continued. "They're men of the people, and they're sat around in, like, Little Venice and Highgate, crying over an argument with their brother. Grow up! Headline Glastonbury! Have a good time! Have a laugh!"
While talks might occur between the brothers, Noel Gallagher is already committed to touring this summer as Noel Gallagher's High Flying Birds will head out with Garbage in June on a North American tour. This comes as Gallagher has a new album en route called Council Skies.
A Timeline of the Beef Between Oasis' Noel + Liam Gallagher