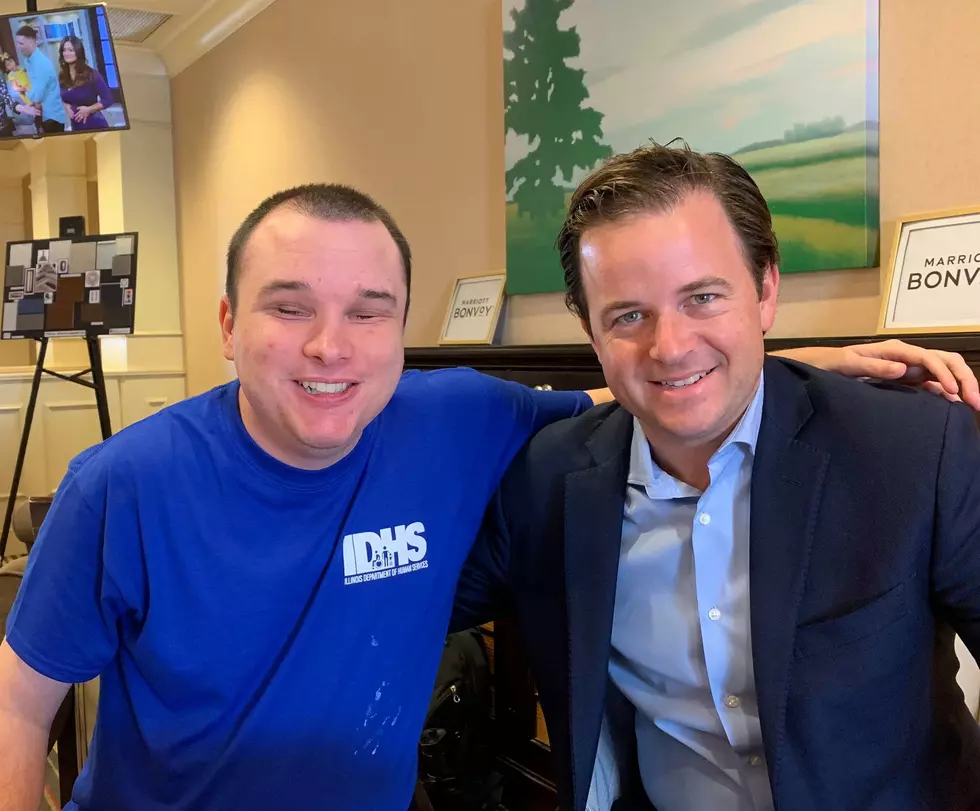 Meet Bryce Weiler, the Blind Radio Sports Broadcaster
Courtesy of The Beautiful Lives Project Facebook page
I virtually met Bryce Weiler when he emailed me asking to share his story on the radio, hoping to inspire the public amidst the difficult times of COVID-19.
I was inspired just reading his email, so I knew I had to get him on the air. I turned on the mic, and asked him to share his powerful story.
Weiler was born four months premature when he developed an eye condition called Retanopothy of prematurity, rendering him blind.
He grew up with a love for sports, and found his true calling at the University of Evansville, when the school's broadcasting head taught him how to commentate basketball games on the radio.
"When I commentate games on the radio, I study the style of the play-by-play broadcaster who I'm commentating with because he or she is the true star of the radio broadcast," said Weiler in our "Tuned In to NoCo" interview. "If they're going to have microphones on the baskets, I will go out and shoot free throws on the court before the game to figure out if the rims are loose or tight so I can know how to commentate when a ball bounces off the front rim, or the back of the rim. It just adds to the radio broadcast."
Aside from commentating, Weiler has also turned his attention to making the sports world more accessible to the disabled community.
He serves as a disability consultant for the Baltimore Orioles, helping the team to make modifications at their games to ensure that disabled attendees can have a better experience.
On top of working with the Orioles, Weiler is also the co-founder of the Beautiful Lives Project, an organization that hosts various events and activities for the disabled community across the country.
The program allows participants to try their hand at a number of activities, including sports, art, dance, cheerleading, ballet, outdoor exploring, and more.
"We want to help people create friendships that can last for a lifetime from these events and programs across the country," said Weiler. "Last year, we served over 3,000 people of all disabilities and helped them live their dreams."
While the Beautiful Lives Project doesn't currently have a chapter in Colorado, Weiler already has ideas about how he can bring it to the Centennial state.
If you're interested in helping him with those ideas, don't hesitate to reach out to him by emailing bryce@beautifullives.org.
And although many of us have never known the hardships of having a disability, Weiler acknowledges that everyone is struggling during the pandemic.
But, just like he's tackled every other challenge in his life, Weiler has some advice as to how to persevere through these difficult times.
"Try to find things that make you feel happy everyday. Try to do things to help other people. Reach out to individuals who you have not reached out to in a long time," he said. "Go say thank you to all the workers...because those people should've gotten thanked their entire careers doing this, but now, they are getting thanked because people realize how important and how valuable all these roles are."
To learn more about his story and the Beautiful Lives Project, listen to the full "Tuned In to NoCo" interview with Bryce Weiler below.
Enter your number to get our free mobile app
Best Rockies Lineup of All-Time