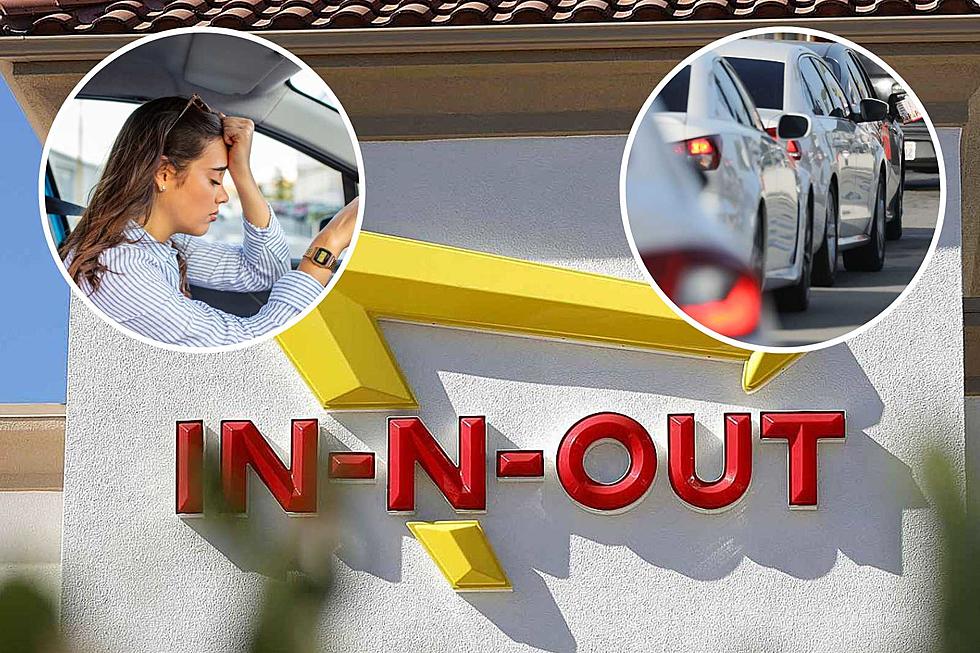 Absolute Zoo: Loveland Looks at How to Handle Traffic for New In-N-Out
Getty Images, Canva.com
Like it or not, ready or not, Loveland will see a new In-N-Out opening before the end of 2023. With it being near the I-25 and Highway 34 interchange, there will be many, many cars coming. Loveland has a preliminary plan. So do we.
Thousands of people are going to want to come into Loveland to see the new In-N-Out; many will be coming just to see the "traffic chaos" the burger joint has created. The city has already been doing some research on how best to handle it all.
It was March 9, 2023, that it was announced that In-N-Out would be officially be taking over the space that Mimi's used to have in the Centerra Marketplace in Loveland. Now, as Mimi's has been demolished and construction begins, thoughts start turning to the traffic situation when it opens.
We've all heard the stories of long lines, but those stories were about other cities, not Loveland, and not this particular area. For traffic to not be an issue, especially when they first open, will be just short of a miracle On the bright side, the City of Loveland has been looking into it.
With Starbucks and Chick-Fil-A already in the area, causing traffic headaches, adding in this In-N-Out won't be helping things. I often stop at Panera on my way to work to get some coffee; more times than not, the Starbucks line backs up to almost Fall River Drive. Fall River Drive is a "main artery" that gets you from one end of Centerra Marketplace to other, but it is not a big street.
Granted, In-N-Out will be on the east side of Fall River Drive, not the same side as Chick-Fil-A and Starbucks, but In-N-Out will definitely be brining more cars onto Fall River Drive; and onto Hahn's Peak Drive, to the west.  Loveland's Public Works division is starting to formulate a plan.
According to the Reporter-Herald, the city agrees that it's going to be a mess. From Civil Engineer Randy Maizland at a City Council meeting:
I think we can all agree that the first several weeks after it opens, it's going to be an absolute zoo out there, and there's going be congestion and there's going be backups, and there's going to be complaints for sure... "... But we do believe that those initial impacts from opening day and the several weeks after can be managed through a management plan."
Based on the city's research of other cities, Loveland's In-N-Out should settle down to seeing about 1,800 cars per day, with about 200 during the peak lunch hours.
LOVELAND'S INITIAL PLAN FOR IN-N-OUT MAY INCLUDE
Signs on Highway 34 directing travelers
In-N-Out staffers directing cars.
'Stacking' cars in the Centerra Marketplace parking lot, north of In-N-Out.
One thing is very clear: In-N-Out will not be getting a certificate of occupancy (they won't be able to open without that) unless In-N-Out gives the City a plan of their own to handle traffic; a plan that the city agrees upon.
ONE POSSIBLITY FOR THAT AREA
I'm not a civil engineer or a high-paid restaurant planner, but I can definitely see a barrier going up on Fall River Drive to prevent any turns to the west where Panera and Chipotle are. They do this during the holidays; cars will need to drive further north to Five Below to make a turn to the west.
More Loveland Restaurant News: Inside the New Epic Egg
Epic Egg, with two locations in Greeley and one in Cheyenne, has opened its first Loveland location.
Take a Look Inside Downtown Loveland's FeelLove Coffee
After several months of renovating the former The Coffee Tree location on 4th Street in Downtown, FeelLove has opened.
That Time That a Cornhole Record Was Set In Loveland
Luke Lorick, the Tailgating Champion, se the record for World's Longest Backward Cornhole Toss on June 18, 2022 in Downtown Loveland.