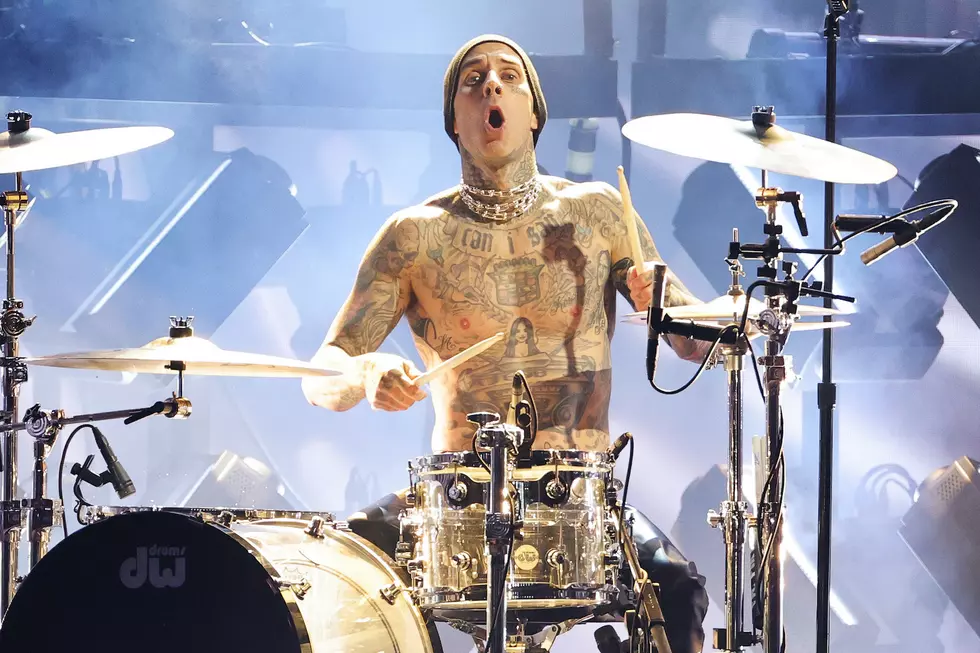 Travis Barker Injures Finger Second Time Ahead of Blink-182 Tour
Rich Fury, Getty Images for The Recording Academy
UPDATE: Blink-182 drummer Travis Barker has revealed a second finger injury in the lead up to the band's reunion tour. According to TMZ, the drummer shared footage of a significantly swollen ring finger in his Instagram stories on Sunday with the caption "again." This would be the same finger he injured earlier this month when he dislocated the finger and tore ligaments. Then, on Monday, Barker shared in his Instagram Stories two X-ray images of his injured left ring finger further showing the injury.  
We're a little more than a month out from Blink-182's highly anticipated reunion tour with Tom DeLonge, but in advance of the trek, drummer Travis Barker has revealed an injury he incurred during rehearsals.
Barker first shared his anguish over the the injury tweeting out a cryptic, "Fuck" on Twitter Tuesday afternoon (Feb. 7), but after plenty of followers on the social media site reached out, Barker revealed exactly what happened. "I was playing drums at rehearsals yesterday and smashed my finger so hard I dislocated it and tore the ligaments."
The drummer did not elaborate on how the injury will impact him moving forward, but at the very least it could be painful should Barker continue drumming in the lead up to the tour.
After posting about his injury, Barker received a number of well wishes including one from Avenged Sevenfold's M. Shadows. "Damn - nothing worse than a lingering injury o tour," said Shadows, adding, "Get better soon" with a fist pound emoji.
Blink-182's upcoming tour gets underway March 11 in Tijuana, Mexico. You can get tickets for the run here.
Your Guide to Rock + Metal Bands Touring in 2023
Check out over 150 rock and metal bands' touring schedules for 2023.