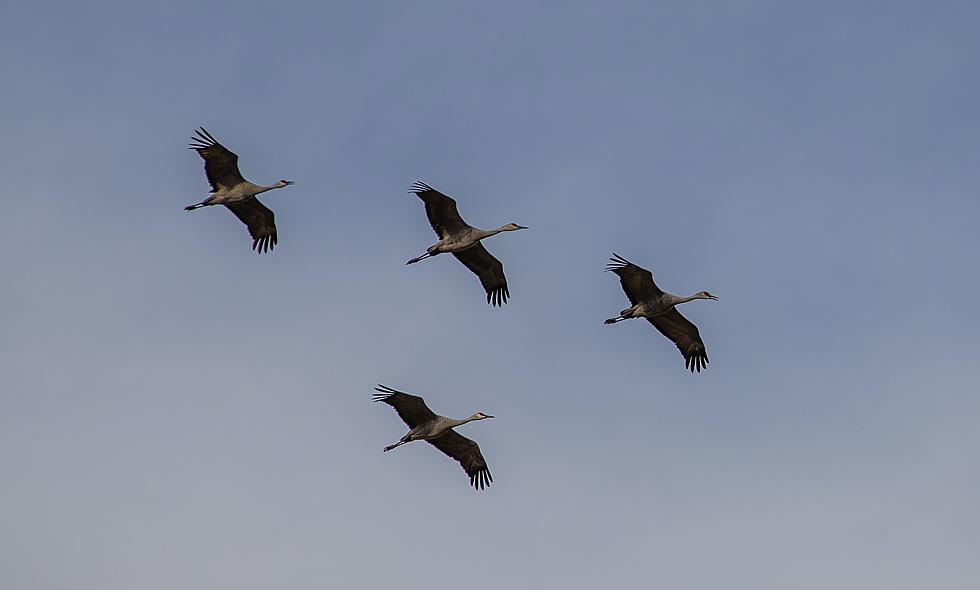 Thousands of Sandhill Cranes Will Soon Be Seen in Colorado
Jeffrey Hamilton/Unsplash
From the tiniest feathered fledglings to bigger birds of prey like hawks and eagles, Colorado is home to over 400 different species of birds. More than 250 of these birds can be found in the Great Sand Dunes National Park and Preserve, making it one of the best places for bird watching within the region. And twice a year, bird watchers from across the state flock to this southern Colorado destination, to catch a glimpse of the great sandhill crane migration.
Sandhill cranes are an iconic species of the San Luis Valley. During the spring and fall, hundreds and thousands of cranes make their way into the lower portion of the state.
After spending the winter in New Mexico, sandhill cranes begin migrating back north, up to Canada. During this extended annual trek, they make a pit stop in southern Colorado -  usually in early February.
Upon arriving in the Centennial State, sandhill cranes spend their spring season searching for a mate  Although they remain romantic partners for life, the birds renew their bond through a unique courtship ritual. This interesting springtime pattern involves cranes dancing, bowing, chortling, and throwing tufts of grass in the air.
Cranes also use their time in Colorado to build up energy for the rest of their journey. They do so by feasting on barely grains found in agricultural fields, as well as aquatic invertebrates that live in the wetlands. Cranes will most commonly be seen in the grasslands during the daylight hours, and in the wetlands or marshes from sunset to sunrise.
LOOK: Coloradans Are Seeing More of This Rare Bird Throughout the State
In addition to the Great Sand Dunes National Park, Monte Vista National Wildlife Refuge is the hotspot for crane viewing and activity in the valley. The refuge features both barley fields and wetlands which is ideal for sandhill cranes. San Luis Lakes State Wildlife Area is another great location to seasonally see cranes.
These majestic birds leave Colorado by late March to raise their youngsters in places that are further north. By late September, they begin to arrive back in the San Luis Valley in late September.
Uncommon Animals of Colorado
It's pretty rare to see these types of wildlife in Colorado.