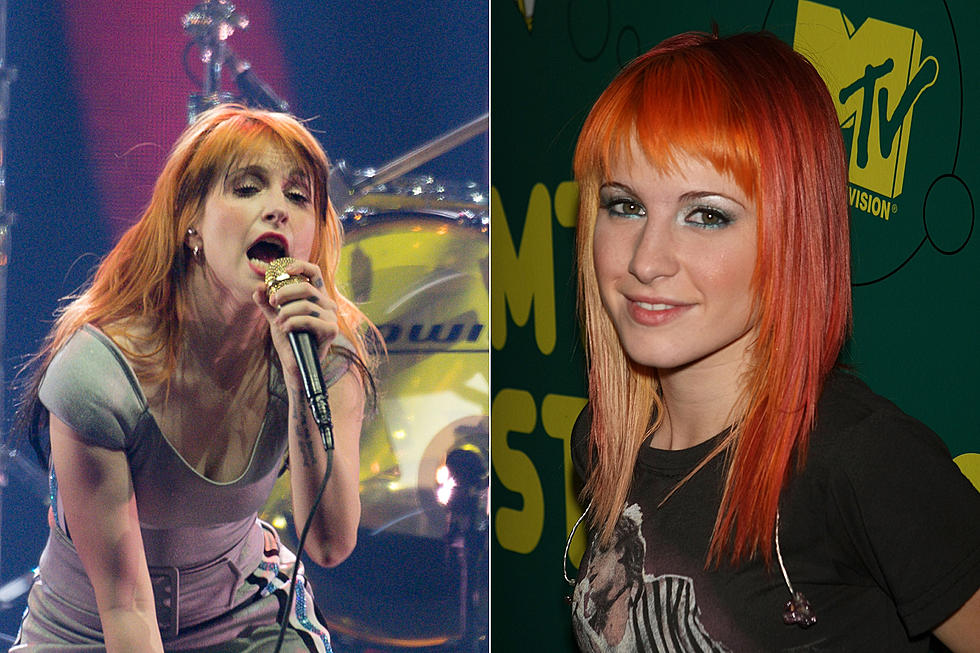 Paramore's Hayley Williams Shares What She Would Write to Her Teenage Self
Marcus Ingram / Scott Gries, Getty Images
Don't we all wish we could go back in time to offer ourselves some sage wisdom on how to deal with life? In an Instagram Stories posting, Paramore vocalist Hayley Williams revealed that she recently took part in an exercise initiated by a friend to reveal what she would share with her teenage self.
"My friend Elise has a newsletter and she sends out shorthand text newsletters that constantly encourage and inspire me," said Williams. "For her birthday, she asked friends and creatives to contribute by writing notes to their teenage selves."
So what did Hayley write? It's essentially a rundown of how life is not always black and white and how life is "both/and," as Williams puts it in her post. The full text, along with those of others responding to the challenge, can be viewed here.
As for what Hayley wrote, you can also view that below:
Good and also Evil
Kind and also Careful
Hurt and also Healing
Empathy and also Not My Problem
Bad Men and also Lovely Ones
Vulnerable and also Fuck Off
Vengeance and also Forgiveness
Stay Home and also See The World
Big Smile and also Depression
Distance and also Closer Than Ever
Intimacy and also No One Will Ever Truly Know Me
Straight and also Spectrum
Newborn and also Ancient Wisdom
Neons and also Neutrals
Hope and also Dystopia
Acceptance and also Rage
God and also Nothing
Everywhere and also Right Here
True Love and also Loneliness
Believing and also Seeing
Dreams Of The Future and also Painstakingly Present
Getting Better and also Enough

"I would tell her to learn now that life is both/and."
As Paramore have returned with their This Is Why album, their first new record in six years, Williams has been very open with fans through each step of the process. Upon announcing their new album last fall, Williams addressed fans by thanking them for the ability to take time off that was much needed in order to continue as a band.
"I know that I would not be ready to give myself back to the band and the music and the life that I love so much had we not voluntarily given it up for a season," said the singer at the time. "For all of that, on behalf of us all, I want to say thank you for being so loving and supportive of us as humans first. The music industry is not a human-first industry. It's not even a music-first industry. Look, we don't even live in a human-first society!!!!!!!!! So choosing to walk away for a spell simply for our own sanity was not an ill-considered concept."
READ MORE: Why Hayley Williams Called Taylor Swift After 2009 MTV VMAs
She also offered an open letter to fans ahead of the When We Were Young festival last year, sharing her experiences with the emo and pop-punk scene that she grew up in.
"To grow up in this scene was not a simple thing," Williams says. "To be celebrating it (and to be celebrated by it) is not a simple thing. Nothing about this life — for you, me, or anyone — is simple. We fell in love with this subset of post-punk and hardcore likely because nothing else moved us. We didn't fit in other places."
She continues, "To be a young girl in love with this scene was to have the hope that I might find my own way to belong. It took years to find that belonging. It's taken a lot of unlearning. A lot of untangling knots I didn't even know were there. What I did know was that for every 'Take off your top!' or snarky punkzine review … for every dramatic headline pinned on my name, or any season of self-doubt … no one was going to define Paramore but Paramore."
Paramore are spending April touring in the U.K. before returning to the U.S. for another tour leg in May. Be sure to get your Paramore tickets here.
All Paramore Songs Ranked