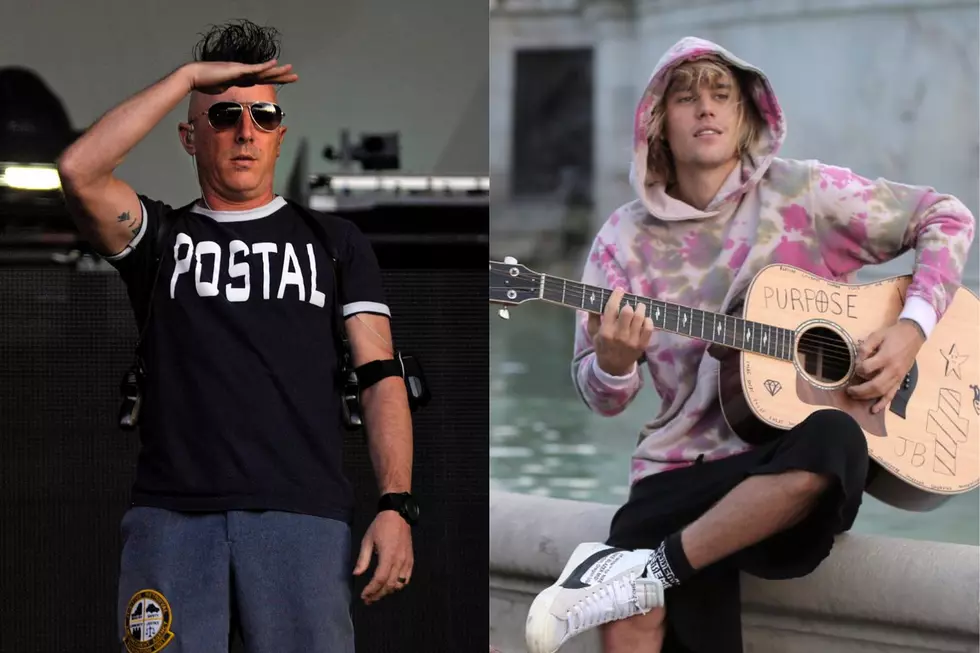 Maynard James Keenan's '#Bummer' Comment Was Not a Justin Bieber Jab
Martin Philbey / Redferns, Ricky Vigil / GC Images (Getty Images)
Earlier this year, Tool's Maynard James Keenan found himself in the midst of some social media vitriol when Justin Bieber shared his fandom of Tool, which made headlines, and Keenan responded with the brief comment, "#bummer." But in a new interview with Apple Music's Beats 1 host Zane Lowe, Keenan reveals the comment wasn't a slight at Bieber himself more than it was a commentary on what would inevitably follow in the media.
Shortly after Keenan's comment made headlines, Bieber's wife Hailey called out the Tool vocalist for being "childish" with his comment, but during the chat with Lowe, Keenan clarifies what he meant once and for all.
"He's probably a good kid. It's the crap that surrounds him," Keenan said of the pop star. "He was never armed with the tools to handle it, and the people surrounding him are monsters. He's living in an ocean of ... So he's, God bless him, he's a product of those things that we've spoken about numerous times on every project I've ever done."
The singer continued, "When I make a statement like #bummer, it has nothing to do with him. It has to do with, I know that the ocean of shit that's going to follow because he couldn't just be a quiet Tool fan, he had to say it out loud, and now I know the flood's coming from the people that don't get it, and the people that think they do, and they're going to argue with each other. And it's going to be stupid. And it doesn't matter. This poor kid's caught right in the crosshairs, as he was, as he is."
These days Tool have a lot of fans, both in the industry and in everyday walks of life, as their Fear Inoculum album was recently released and the band's catalog was finally made available for digital services. In August, the group dominated a number of music charts, and it's currently being projected that Fear Inoculum will debut at No. 1 on the Billboard 200 Album Chart.
You can also look for Tool on tour. See about ticketing info here.
25 Awesome Celebrity Metalheads