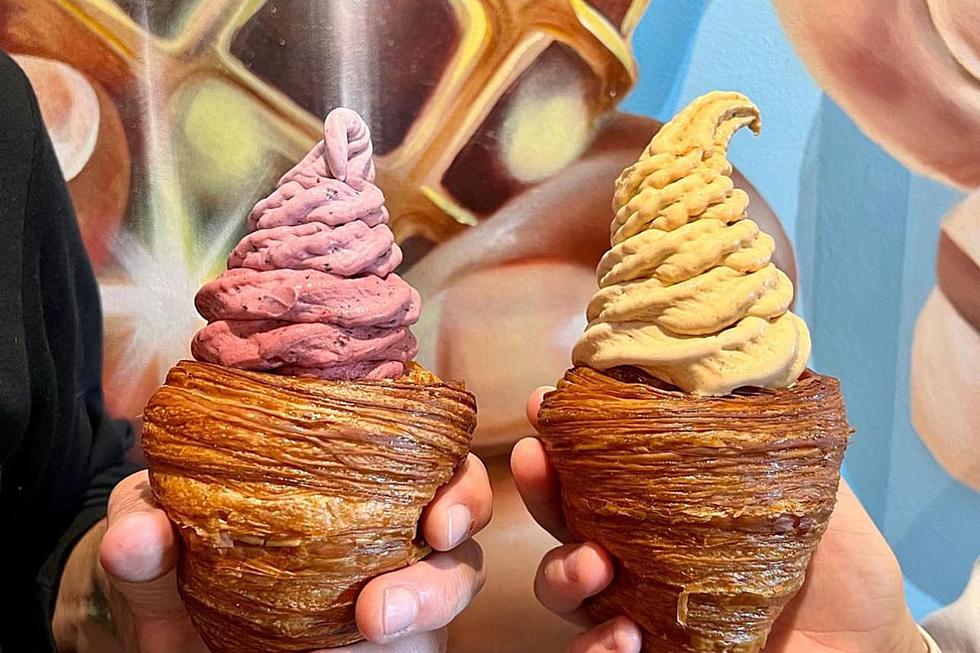 Croissant Ice Cream Cones? Here's Where to Find Yours in Colorado
Credit: Edgewaterpublicmkt/ HappyConesCo/BlackBox_Bakery Instagram
We all love croissants and we all love ice cream. Why not combine the two into an amazing powerhouse of a sweet treat? A viral Colorado bakery has teamed up with a local ice cream shop for this sensational treat.
Everyone loves a good waffle cone, but I would take a croissant in any fashion over ice cream. Don't get me wrong, I love both foods, but there is just something about a croissant that makes me happy. If I had to pick one reason why I love croissants so much, I would have to say it's all about the flakey goodness.
Happy Cones Co. makes New Zealand-style ice cream and Black Box Bakery makes out-of-this-world croissants. What do they both have in common? Both eateries are located in the Edgewater Public Market. It was only a matter of time before an amazing collaboration such as this took place.
Where can you find a croissant ice cream cone in Colorado?
To get this one-of-a-kind treat, you are going to have to head to the Denver Metro area to the Edgewater Public Market on a Saturday starting at 11 a.m. until they are sold out for the day. But you better not procrastinate as these croissant ice cream cones are only around for November.
While croissants are typically reserved for breakfast, they are a great choice of food at any time of the day. Come to think of it, if you have a croissant cone, you could technically eat ice cream for breakfast and it would be acceptable too.
Take a look at how amazing these croissant ice cream cones look:
The Edgewater Public Market is located at 5055 West 20th Avenue in Edgewater, Colorado. For more information on croissant ice cream cones, visit the Instagram pages of Happy Cones Co. and Black Box Bakery.
Eight Amazing Bakeries to Explore In Colorado
According to
CSUS.edu
, baking goes back to at least 2600 B.C. It seems we have the Egyptians to thank. Fast-forward a few millennia, and in 2023 the United States baking industry accounts for over 600,000 jobs and more than $102 billion annually.
Right now, according to CSUS.edu, the United States is home to 2,800 commercial bakeries and 6,000 retail bakeries.
Where does one go to find the best bakery? In Colorado, there are a number of clear standouts. The website
Best Things Colorado
put together a short list of the best of the best. In no particular order, here's a look at eight outstanding Colorado bakeries.
Gallery Credit: Waylon Jordan
12 of Colorado's Favorite Old Restaurants that are Still Open
As you travel around Colorado this summer you'll probably be looking for a few good places to eat. Check out 12 Colorado restaurants that have been pleasing customers the longest in the Centennial State, and are still going strong today.
Gallery Credit: Wesley Adams
11 Colorado Restaurants With Amazing Scenic Views
Relax and enjoy the view offered by these Colorado restaurants that feature great meals and amazing scenery!