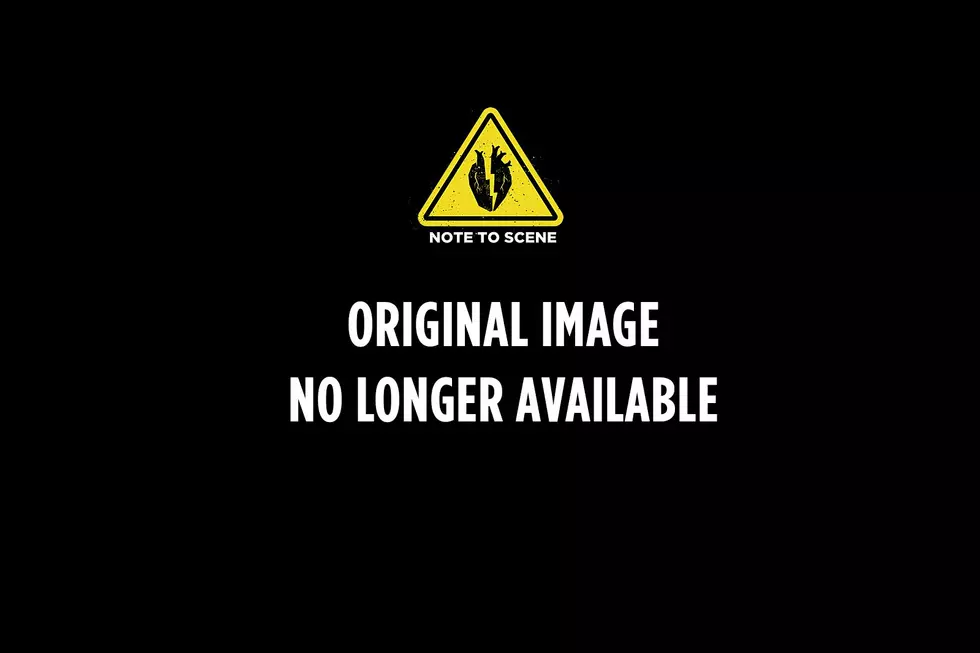 13 of the Most Iconic Scene Lyrics of All Time
The scene is home to some of the finest lyricists in contemporary rock, with the likes of Gerard Way, Brendon Urie and Hayley Williams going on to find stardom thanks to their ways with words. From the most emo of ballads to generation-defining anthems, here we've pulled together the 13 most iconic lyrics the scene has birthed. Singing voices at the ready...
"T-tell your boyfriend if he says he's got beef / That I'm a vegetarian and I ain't fucking scared of him"

This gem from crunkcore leaders 3OH!3 is nonsense and genius in equal measure, and that's exactly what makes it so iconic. The scene has previously been packed with bands that took themselves way too seriously, so fair play to 3OH!3 for bringing some much-needed lightheartedness to proceedings, even if some of their more choice lyrics ("Don't trust a ho") would probably get them cancelled nowadays.

The Used - "The Taste of Ink"

"The taste of ink is getting old / It's four o' clock in the fucking morning"

The Used have never bettered "The Taste of Ink," neither in terms of iconic lyrics or sheer emotional impact. Anyone disappointed by the mixed bag that was the band's latest album, Heartwork, need simply to return to the band's self-titled, 2002 debut for some classic scene excellence. "The Taste of Ink" is the best of the bunch, but with the likes of "Buried Myself Alive," "Blue and Yellow" and "A Box Full of Sharp Objects" also present, The Used is a smorgasbord of superb songs.

All Time Low - "Dear Maria, Count Me In"

"I got your picture, I'm coming with you / Dear Maria, count me in"

One of the most iconic lyrics associated with the neon explosion, the chorus from "Dear Maria, Count Me In" is destined to be bellowed out at the end of All Time Low sets for as long as the band remains together. They've offered up some undeniable bops throughout their 17 years as a band — "Weightless," "Damned If I Do Ya (Damned If I Don't)" — but none have quite matched "Dear Maria" in terms of impact in the scene.

Taking Back Sunday - "You're So Last Summer"

"The truth is you could slit my throat / And with my one last gasping breath / I'd apologize for bleeding on your shirt"

An undeniable Warped Tour anthem, "You're So Last Summer" possesses some iconic angst-ridden lines that made it a stand-out moment amidst an album — Tell All Your Friends — that was stacked with emo hits.

Escape the Fate - "Situations"

"Darling, what is going on? Honestly, that never happened / Lying is your favorite passion"

This song introduced the world to Ronnie Radke and co.'s scene kid take on Motley Crue-esque excess. A decade and a half on, it remains one of Escape the Fate's finest moments.

Panic! At The Disco - "I Write Sins Not Tragedies"

"I chime in with a "Haven't you people ever heard of closing a goddamn door?"

These lyrics find Brendon Urie on typically sassy form — a trait which hasn't left the Panic! frontman throughout the rest of the band's career. "I Write Sins Not Tragedies" is certified five times platinum, representing sales of over 5,000,000 units. Back when downloading ringtones was a thing, Panic! At The Disco even managed to sell half a million copies of the cell phone-friendly version of the track.

Fall Out Boy - "Grand Theft Autumn/Where is Your Boy?"

"Where is your boy tonight, I hope he is a gentleman / Maybe he won't find out what I know: you were the last good thing about this part of town."

The muted lyrical opening to the third track from Fall Out Boy's 2003 debut Take This to Your Grave sets the tone for a typically emo tale of unrequited love. One of several iconic FOB tracks referenced in the band's 2008 single "What a Catch, Donnie," "Grand Theft Autumn/Where is Your Boy?" remains a fan favorite 17 years on from its release.

blink -182 - "I Miss You"

"Don't waste your time on me / You're already the voice inside my head (I miss you, I miss you)"

Known as much for Tom DeLonge's typically nasal delivery as it is for its emotional heft, this line from blink classic "I Miss You" and the song at large proved its creators' ability to dabble in heartfelt ballads as well as pop-punk tomfoolery. "I Miss You" is the band's second-most streamed song, with only smash hit "All The Small Things" garnering more plays.

Paramore - "Misery Business"

"Whoa, I never meant to brag / But I got him where I want him now"

Hayley Williams has long since disowned "Miz Biz," deeming its lyrics to be sexist, but despite that questionable line in the second verse, the song remains one of the most loved in the scene, and the track that truly launched Paramore's career.

My Chemical Romance - "Welcome to the Black Parade"

Three simple words that mean so much to so many, the main lyrical thrust of "Welcome to the Black Parade" is a message of defiance and strength in the face of adversity, and it's one that's helped transform the band into one of the most vital the scene has ever produced.

A Day to Remember - "If It Means a Lot to You"

"If you can wait 'til I get home / Then I swear to you that we can make this last"

A Day to Remember have released a few strong ballads in their time — 2013's "I Surrender" is criminally underrated — but they've never topped "If It Means a Lot to You." By far the band's biggest song in terms of streaming numbers, there aren't many better scene ballads out there.

Sleeping With Sirens - "If You Can't Hang"

"If you can't hang then, there's the door, baby"

If 2010 debut With Ears to See and Eyes to Hear was Sleeping With Sirens' early statement of intent, 2011 follow-up Let's Cheers to This, and particularly lead-single "If You Can't Hang," was the band realising their potential. A vicious ode to heartbreak, the lyrics of "If You Can't Hang" are a potent reminder of the bite this band possesses.

Pierce the Veil ft. Kellin Quinn - "King For a Day"

"You told me think about it, well I did / Now I don't wanna feel a thing anymore / I'm tired of begging for the things that I want / I'm over sleeping like a dog on the floor"

A joyous collaboration between Pierce the Veil and Sleeping With Sirens' Kellin Quinn, "King For a Day" and it's iconic chorus are emblematic of the early-'10s post-hardcore wave that put heavy music back at the forefront of the scene. Pierce the Veil have since penned more mainstream-friendly singles — "Circles" being the best example — but "King For a Day" remains atop the throne when it comes to the band's arsenal of songs.