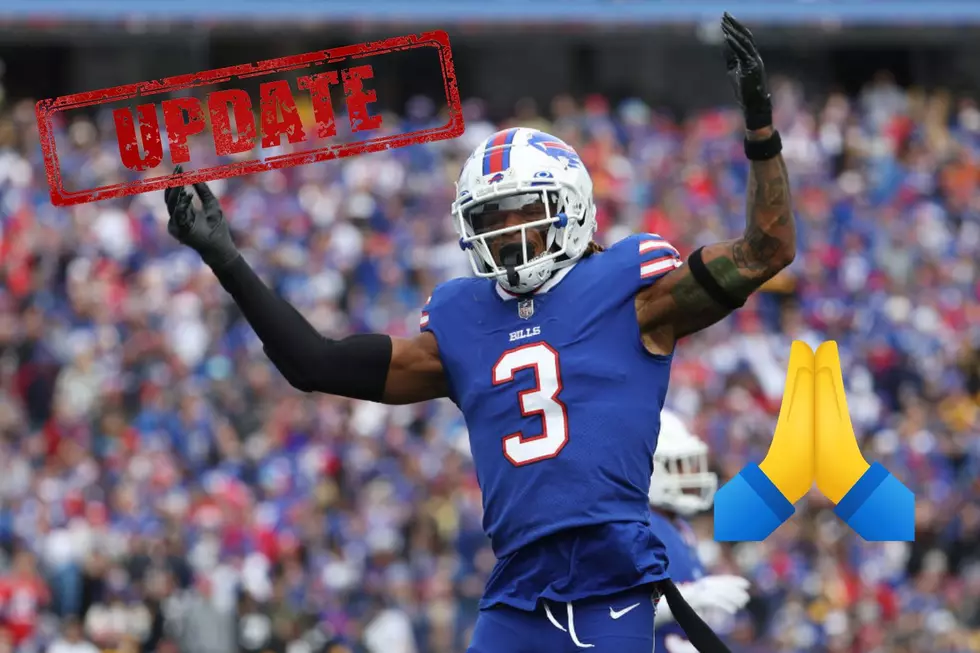 Here's The Latest Update From Family Of Damar Hamlin. So Scary
Getty / Canva
Millions watched in pure shock as Buffalo Bills Safety, Damar Hamlin, collapsed on the field during last night's Monday Night Football Game. His family gave a new update on Damar this morning.
Damar Hamlin Update From Family
I don't think I'll ever forget the moment I got a text from my brother asking if I was watching Monday Night Football, because a player just collapsed and is being given CPR on the field. I quickly turned on the game to see an ambulance on the field, which I have never seen in all of my years watching the NFL, and players from both the Buffalo Bills and Cincinnati Bengals in tears as they watched a teammate, and brother, lie on the field legally dead until they got his heart beating again. The medical crew was able to get his heart beating again before he left the field in the ambulance to a local hospital, but he is still in critical condition at the UC Medical Center in Cincinnati.
The picture of the entire Bills team on their knees in prayer as Damar left the field in the ambulance during last night's game was extremely moving. Concerned, scared, and sad, the emotions were extremely high regarding what had just happened to Darar just minutes before. The Bills gave an update late last night on what exactly had happened during the game.
A close friend of Damar, Jordan Rooney, provided the biggest update as of yet.
While details on his current condition are few and far between since this post, his family did release this statement this morning.
Since the tragic moment in last night's game, a toy drive GoFundMe that damar had set up to raise $2500 went from $10k last night to over $4 million and counting as of this writing. When, yes, when Damar wakes up, he's going to be blown away by the generosity of everybody who's donated to his charity. The entire sports world is rallying around you, Damar. You got this.
The Ten Best Moments in Denver, Colorado Professional Sports History
From the Denver Broncos to the Colorado Rockies, or the Denver Nuggets to the Colorado Avalanche, these are the Best Denver Sports Memories of the last 40 or so years.
25 Fun Facts About Colorado Sports Teams
Impress your friends with these stats and facts about Colorado sports and different teams within the state.