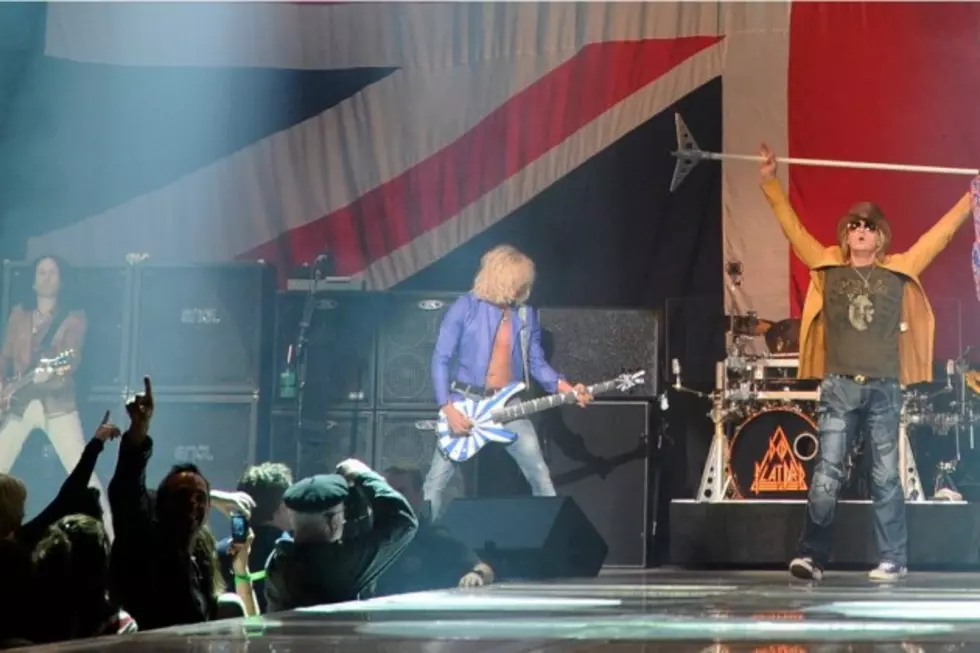 Def Leppard Add U.S. Dates to 2015 Tour
David Becker, Getty Images
While they're waiting for the band's new album, Def Leppard fans in the U.S. can also look forward to summer tour dates -- at least two of them, anyway.
The group's 2015 travel itinerary has been expanded to add a pair of shows with Styx and Tesla, with the three veteran acts sharing a bill at the Minnesota State Fair in St. Paul on Aug. 27 and again at the Great Allentown Fair in Pennsylvania on Sept. 1. That's a pretty solid bang for one's buck and has the makings of a decent package tour -- both bands have traveled with Def Leppard before -- but whether these are just a short detour or the start of something bigger remains to be seen.
Either way, Lep will stay plenty busy on the road this year. Their world tour is scheduled to begin April 15, the first date on a monthlong leg that will take them around Canada, followed by another round of dates in Europe. Check out the complete list of dates below, and notice the big gap between June 6 in Finland and Aug. 27 in St. Paul -- you can bet they'll be playing somewhere during those weeks.
Def Leppard 2015 Tour
4/15 - Penticton, Canada
4/17 - Victoria, Canada
4/18 - Vancouver, Canada
4/20 - Dawson Creek, Canada
4/22 - Calgary, Canada
4/23 - Edmonton, Canada
4/25 - Lethbridge, Canada
4/26 - Regina, Canada
4/28 - Saskatoon, Canada
4/29 - Winnipeg, Canada
5/02 - Montreal, Canada
5/04 - Ottawa, Canada
5/05 - London, Canada
5/19 - Warsaw, Poland
5/22 - Ostrava, Czech Republic
5/23 - Prague, Czech Republic
5/25 - Stuttgart, Germany
5/27 - Offenbach Am Main, Germany
5/28 - Cologne, Germany
5/30 - Esbjerg, Denmark
6/02 - Oslo, Norway
6/04 - Solvesborg, Sweden
6/06 - Tampere, Finland
8/27 - St Paul, MN (with Styx and Tesla)
9/01 - Allentown, PA (with Styx and Tesla)
Watch Phil Collen Perform 'Hysteria'
See 2015's Most Anticipated Albums