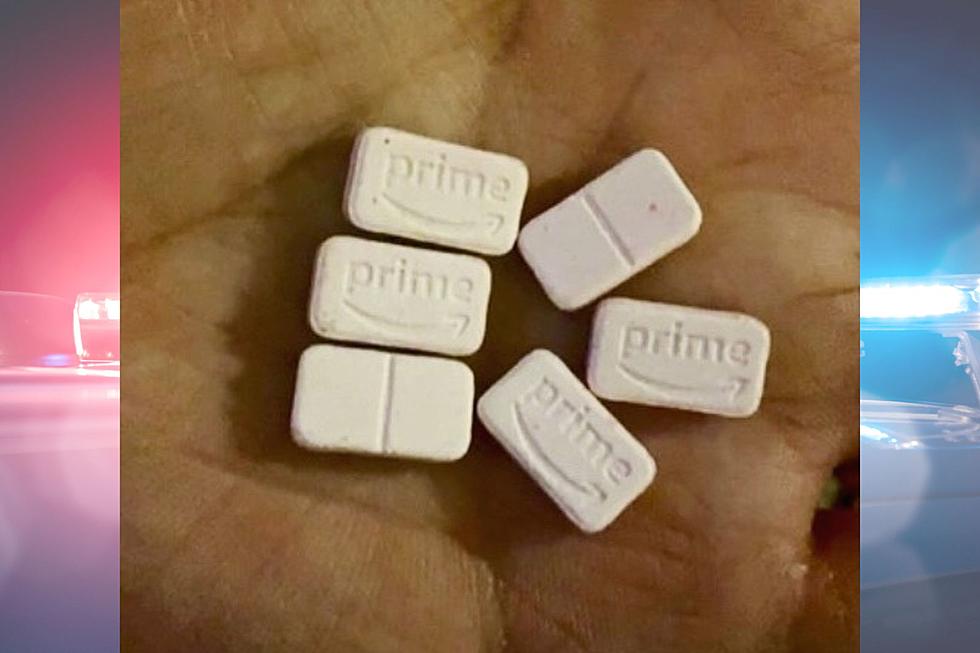 Greeley Police Department Warns of Counterfeit Pills Laced With Fentanyl
Greeley Police Department // Facebook, Canva
The Greeley Police Department (GPD) is warning the public to be on the lookout for counterfeit pills laced with fentanyl.
According to a Friday (March 10) Facebook post from GPD, officers have been finding an increase of these pills, which feature a stamp similar to the Amazon Prime logo, along the Front Range.
GPD believes that perpetrators are using social media to get the pills to local kids.
The agency reports that fentanyl-related overdoses have risen exponentially in Weld County and led to the deaths of over 650 people in 2021. Statewide, GPD says that fentanyl deaths have jumped from 974 to nearly 2,000 in the last five years.
"Doubling that number is unacceptable," said GPD in the post. "If you find these pills, or any suspicious looking pill especially with a logo stamped on it, please call your local police department immediately so we can safely remove these and investigate their origin."
The agency asks that people with specific information about who is dealing these pills or other narcotics call the Weld County Drug Task Force at (970) 351-5210. Tips can also be emailed to NarcoticTips@greeleypd.com.
Other Northern Colorado law enforcement agencies are also facing fentanyl use.
In February, Fort Collins Police Services (FCPS) charged two burglary suspects with Possession of Fentanyl; earlier that month, officers from the Boulder Police Department (BPD) used NARCAN® to save a man from a fentanyl overdose.
Learn more about fentanyl and other substances to be aware of in the gallery below.
Parents Should Familiarize Themselves with These Illegal Drugs
Knowledge is power, especially when it comes to recognizing and understanding when your child becomes involved with illegal drugs.
Report Names the 10 Most Dangerous Colorado Cities
When it comes to the most unsafe cities in Colorado, here's how the rankings panned out. The violent crime and property crime rates were calculated per 1,000 residents.
According to Safewise, the crimes that Coloradans are most concerned with, are violent crimes, property crimes, package thefts, and gun violence. See the full list of Safewise's most dangerous and safest Colorado cities
here
.